Cloud Management Platform – mastering complexity easily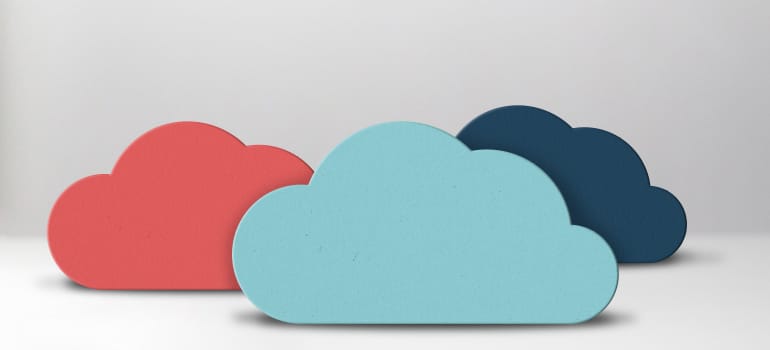 The figures are clear: according to the Crisp study "Multi-Cloud Management in German SMEs", single-cloud architectures will soon be history. More than two-thirds of medium-sized companies in Germany will rely on hybrid or multi-cloud structures in the future.
In order to master the security and management challenges of these multi-cloud environments, companies will find it difficult to avoid using a Cloud Management Platform (CMP). It's the only way to manage complexity and realize the strategic benefits of a multi-cloud. With a simple virtualization management console, such IT architectures can no longer be managed.
Plan and manage cloud capacities
A cloud management platform addresses IT administrators, infrastructure managers or CTOs and offers them a global view and control of their entire IT infrastructure. This enables an IT team to monitor cloud-based services, plan capacity and deliver workloads that meet all availability and performance requirements.
At the fundamental level, a CMP enables users to manage their cloud resources through an orchestration suite that automates cloud management tasks. It must be able to provide a complete view of every cloud environment in operation for both public and private deployments. The CMP thus discovers resources in the cloud infrastructure and ensures that an organization makes the best use of them.
A CMP is based on automatic orchestration. For example, it automates the process of finding free resources in the network. Instead of waiting for the IT team to discover wasted resources, the CMP automatically fixes resource utilization problems.
To do this, the software combines a number of functions or modules that enable the management of different cloud environments – public, private and hybrid. This involves not only hardware, network, storage, VMs, but also IT tools such as monitoring, workflows or automation tools.
Multiple integrated software tools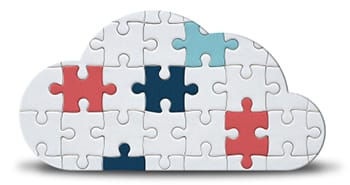 Cloud Management Platforms consist of several integrated software tools. The exact scope of functions varies depending on the provider. According to the Cloud Working Group (CWG) – a lobby group for cloud users – a CMP includes self-service, reporting and analysis functions to gain insight into the consumption behavior of cloud services in the company.
Resource management enables cloud computing resources to be managed. This includes virtual machines, storage and networks. In addition, the CMP can include functions for migrating resources between environments such as private and public clouds.
Make cloud costs transparent
A major issue in multi-cloud environments is cost. More and more companies are moving away from centralized budgets for IT resources. Instead, the respective departments plan their IT budgets themselves. However, the required resources are still managed centrally so that IT does not develop into an uncontrollable proliferation with a high proportion of shadow IT.
A cloud management platform must therefore offer functions that allow automated tracking of expenses and allocation to specific users or departments. This includes the ability to generate chargeback reports and forecast future cloud costs. Through a CMP, administrators can also enforce policy-based control of cloud resources and security features such as encryption or identity and access management.
Self-service provides fulfillment and administration functions and supports the provisioning and de-provisioning of cloud resources. Here, users compile server, storage and network configurations themselves and implement them at the click of a mouse. A list of configuration templates helps them make their selection with a predefined set of services and individually configurable services. Saved as templates, configurations can then be duplicated for other services.
Cloud cost management
Companies want to control their resource consumption in order to reduce costs. Unused resources put a strain on the company's finances. Managing cloud operations ensures that all resources are used sufficiently and the level of wasted expenditure is reduced.
Cost management dashboards monitor resource consumption in real time and provide visibility and control over performance, availability and capacity utilization. They can also be used to model costs and create metrics.
IT departments can create invoices based on consumption information. This is a key feature for companies that want to allocate costs to internal services – sales, marketing, HR, accounting, developers. Or for service providers and cloud providers who invoice according to the customer's consumption.
CMP is also a tool for optimizing the technical use of the infrastructure. Real-time analysis and reporting as well as predictive analysis are required to reduce costs. This also makes it possible to track trends in infrastructure usage: When was it most heavily loaded? At what time of day? On what day of the month? At what time of the year? Which internal customer?
Start server with stored rules
CMP also combines server management with network and storage technologies. This allows you to determine which type of storage – NAS, SAN, Direct Attached Storage, Shared Block Level Storage – or network to use for which service.
The start-up of new servers can also be automated with a Cloud Management Platform. IT administrators define rules for this purpose, for example: make a new server available every time a physical server is used up to 70 percent. Or: add 2 GB of RAM when a virtual machine is used up to 75 percent.
And last but not least, governance features allow an administrator to manage critical business processes and automate tasks according to defined rules. This includes security features such as encryption management, role-based access control and user authentication.