Our mission is the reliable and proactive operation of your modern cloud infrastructure. We get up every day to deliver outstanding service to our friends, partners, and customers. We are proud of our work and we love to present it to you and the world.
Henrik Hasenkamp, CEO gridscale, 12th Oct 2018
How it started
After more than ten years in companies in the international cloud and hosting technologies and working with quite a few DAX and Fortune 500 companies, our founders knew that the demands on IT projects and the infrastructure behind them would continue to increase and that companies would need to be able to adapt quickly. It was clear that medium-sized companies could no longer operate the increasingly complex technology landscape on their own.

The birth of gridscale and the idea of making hyper-scaler technologies available locally and in private environments without technological dependency.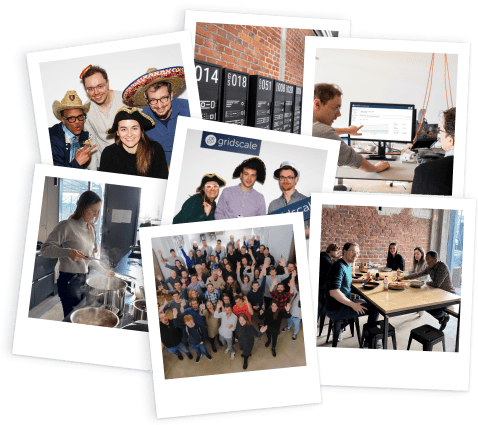 Our culture
Our corporate culture creates space for creative ideas and exceptional people. We give our employees the freedom they need to develop. We create something new every day and consistently strive to push the boundaries of what is possible. Wherever possible, we dispense with structures and hierarchies and deal with each other openly. Every employee is part of gridscale and shapes the history and the future of gridscale.
PS: We're hiring!
Chronology

gridscale is named Public Cloud Rising Star by ISG for the second year in a row!

Successful Audit after ISO 14001 and ISO 27017.

MightyCare Solutions GmbH and gridscale enter into a strategic partnership.

gridscale is announced as Public Cloud Rising Star 2021 by IT analyst firm ISG. We are very proud.

gridscale GPU provides high-performance computing for AI, machine learning, and big data

Platinum Award for gridscale Kubernetes at Service Provider Summit 2021

Thomas Krenn AG and gridscale enter into a strategic partnership.

With Virtual Locations, gridscale enables the relocation of private and sensitive workloads to the public cloud.

After a successful LAB phase, gridscale releases one of the fastest available storages.

As a partner for the Swiss market, we warmly welcome hosttech. From now on, all gridscale customers can also access secure data centers in Switzerland.

Growth capital as an investment in the gridscale Hybrid Core product – your sovereign and private cloud based on gridscale technology.

Successful Audit after ISO 27.001 and ISO 27.018.

Growth continues, with additional office space. Now on 1,300 sqm in Cologne-Ehrenfeld.

After a successful LAB phase, we release our Managed Kubernetes stack on gridscale.

The gridscale reseller panel receives the most comprehensive update in its history.

Successful Trusted Cloud certification

gridscale is committed as a member of EuroCloud and eco e.V.

gridscale successfully completes Series-A financing with €7 million in growth capital

Move to our office in Cologne-Ehrenfeld

Award by Initiative Mittelstand

Awarded as "Innovator" in the Crisp Vendor Universe

gridscale releases comprehensive PaaS offerings with databases, load balancers, and other practical services.

Publication of our API documentation followed by invitations to developer communities.

gridscale joins
Open Source Business Alliance

Successful seed financing for gridscale

Expansion of the data centers in Frankfurt. Commissioning of further availability zones.

End of closed beta phase & official launch of gridscale.io

Carsten and Marc Dittmann become shareholders

Development of the second prototype

The foundation of gridscale GmbH with Michael, Torsten, and Henrik

The idea and concept for gridscale was born.