Advantages at a glance

Automated data backups
Specify the interval at which we back up your data for you. The Backup Center takes care of the rest. Fully automatically and exactly according to your specifications. From regular data replication and high availability to long-term archiving as object storage.

Grows with your needs
gridscale's cloud storage is completely tailored to your specific business needs. Scale your capacities as you need them and flexibly choose the option that best suits your data. But one thing always remains the same: strictly GDPR-compliant storage in our European data centers.

Clone your cloud storage
Whether for a staging environment or for a spontaneous test – with just one action you can easily clone an existing cloud storage and attach it to a new cloud server. gridscale's features save you a lot of time working with your infrastructure. Streamline your IT operations now.
Distributed Storage
Our distributed storage is designed for workloads that require data to be highly available. Using our automated recovery and failover mechanisms, your data is replicated across three availability zones within a site ensuring your data is accessible with reliability and performance.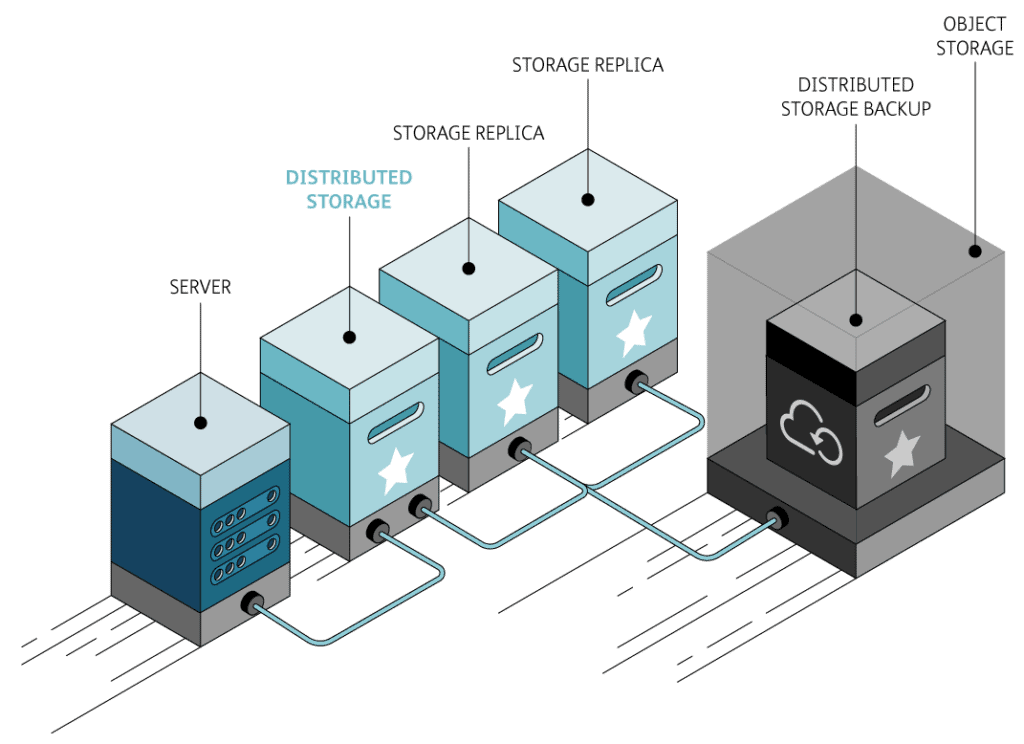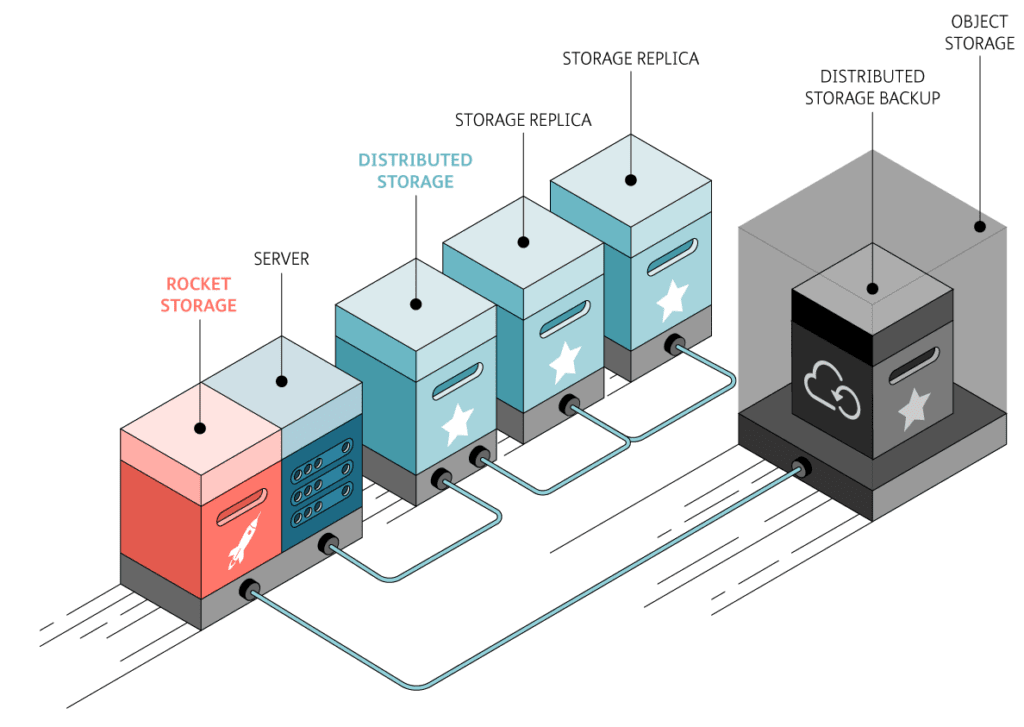 Rocket Storage
Our Rocket Storage is a NVMe-based local data storage. NVMe technology stands for highest data throughput and maximum speed. It is designed for applications that require exceptional I/O performance and low latency. This includes demanding business applications and enterprise workloads as well as highly responsive database systems.
SSD Cloud Storage in action
»Archiving is by definition a long-term and security-oriented topic. Therefore, a cloud provider based in the local legal area and under the German data protection regime was mandatory for us.«
»During my test, I noticed that the support is very professional and helps within a few minutes in case of a problem. This is very important for an operator of several online stores with more than 30 servers in the infrastructure.«
SSD Cloud Storage at a glance
Distributed SSD storage in 3 storage classes (Standard, High, Insane)
Powered by enterprise hardware from Intel and Samsung
High data throughput, intelligent load dispatching and peak balancing
Flexible sizing combined with per-minute billing (pay-per-use)
Mapping/automation of customized snapshot and backup plans
Dedicated Rocket Storage based on NVMe storage media
Encrypted data storage in TIER-3 data centers
Provision of PaaS features and fully managed services
Backup center for managing sophisticated security concepts
Optional integration of 3rd party solutions like Acronis
Easy and simple pricing
Standard
Use standard for:
· Webserver (S)
· Terminal Server
· E-Commerce-applications (S)
· API-Endpoints
from 2 €/month
10 GB Storage
High
Perfect for:
· Web & Cache Services (M)
· Key-Value-Datastore
· Cloud Applications
from 3 €/month
10 GB Storage
Insane
Recommended:
· ERP-Systems like SAP
· PaaS
· Databases
from 4,50 €/month
10 GB Storage
Rocket Storage 🚀
Perfect for:
· Enterprise Applications
· Enterprise Workloads
· Databases
· E-Commerce-Applications (L)
from 1,90 €/month
10 GB Storage
FAQ
Are you ready to start?
Or do you still have questions? Create your free account now, or get a personal consultation.
I would like to get advice