Cologne, Germany, March 18, 2021 – gridscale GmbH is now offering its public cloud customers Rocket Storage, a new NVMe-based data storage solution.
The NVMe technology (Non-Volatile Memory Express) provides very high data throughput as well as top access speed rates and was developed for applications requiring special I/O performance and low latency times. These include high-end business applications and enterprise workloads as well as highly responsive database systems and e-commerce applications.
"Today, both employees and customers expect increasingly faster response times for business workflows and consumer apps, while at the same time resource dependency, storage requirements and the complexity of applications continue to increase," explains Felix Kronlage-Dammers, COO of gridscale. "Fast access to the target storage and a direct connection to the PCIe bus make NVMe storage solutions much faster than hard drives and all-flash-architectures connected via AHCI. In this way, the I/O performance of Rocket Storage increases especially for parallel accesses and depending on the application scenario up to a factor of one hundred."
Exploit SSD Performance Potential to the Fullest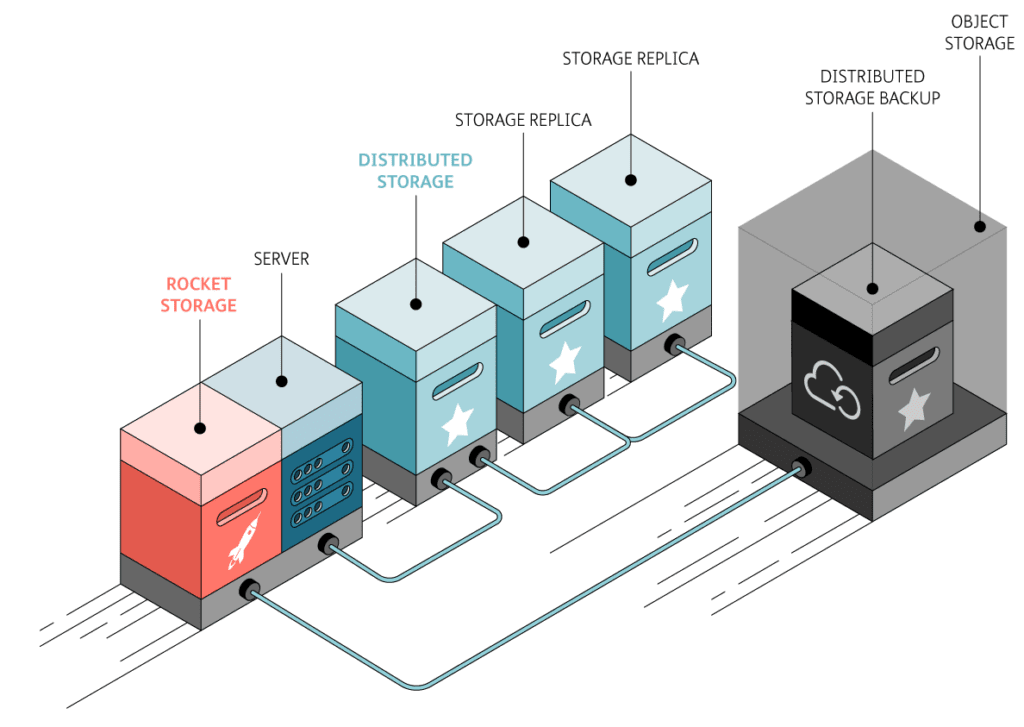 With the NVMe device interface specially optimized for all-flash media, gridscale customers can now use the full performance potential of their storage with Rocket Storage. The direct physical connection of the storage, the resulting elimination of protocol translators and the multiple parallel processing of all command queues minimises the overhead when reading and writing data, resulting in the highest possible read and write performance and extremely low latencies when accessing data. At the same time, the Backup Center provides gridscale customers with a web-based interface for easy configuration and monitoring of their individual storage and backup concepts.
NVMe-based Storage Now Available
Rocket Storage is now available as an alternative storage option to Distributed Storage and Object Storage in the gridscale Public Cloud. Charges vary according to actual usage and, at €0.19 per GB/month, are equivalent to Distributed Storage at the standard speed.
About gridscale
gridscale, IaaS and PaaS provider headquartered in Cologne, stands for easy-to-use and flexible cloud technologies. Via an intuitive interface, the IT infrastructure can be managed by people without in-depth IT know-how and a Kubernetes environment even facilitates the management of cloud-native workloads. Thousands of companies, agencies and managed service providers already rely on gridscale to implement and operate their digital projects – from high-traffic web shops to complex SaaS or enterprise IT solutions. White label options are available to resellers and with the gridscale software 'Hybrid Core' data center operators themselves can become cloud providers. gridscale with its about 100 employees is led by Henrik Hasenkamp and Felix Kronlage-Dammers.