Key Results
How does gridscale differ from your previous provider in these aspects?
The customer service there was more like that of a government agency. We had to take a number, wait, and if the first contact person couldn't offer a solution, the game started all over again. We no longer wanted to feel like we were talking to a chatbot, but to an experienced technician to whom we could describe our problems. That's exactly what gridscale offers us. You are immediately on the spot in case of problems or questions. The cooperation is uncomplicated and at the highest technical level. That is impressive.
Besides data protection and customer service, were there any other requirements for your move to the gridscale cloud?
Important technical prerequisites were that we could migrate our existing data to the gridscale cloud in a very simple way. It was our goal from the very beginning to run our entire infrastructure at gridscale. Especially in the migration process, you can't afford to lose data or have our service barely usable or not usable at all during the changeover. By the time everything was up and running again, we would probably have lost half of our customers. For us, there was therefore no alternative to rapid implementation.
How long did it take to complete the migration?
That was pretty straightforward and only took three to four days. We took the time over the weekend to shut everything down once and were ready to go again for our customers from the restart on Sunday evening. So that really worked flawlessly. It is very easy to switch to the gridscale cloud.
SaaS solutions in the gridscale cloud
gridscale offers SaaS providers a secure and fast cloud with a perfect user experience. The gridscale cloud guarantees 24/7 reliability, stable performance and German data protection – with attractive prices thanks to minute-by-minute pay-as-you-go billing.
Developer friendly – All the freedom for cloud-native and DevOps concepts thanks to open source philosophy, open API and managed Kubernetes.
Audit-proof – compliance with all regulatory requirements for data protection according to ISO 27001. Secure data storage in German TIER 3 data centers.
Scalable – Required resources can be seamlessly adapted at any time. Storage and CPU scale automatically and reliably during operation.
Service-friendly – The gridscale cloud experts are always available for uncomplicated problem solving and advice when needed.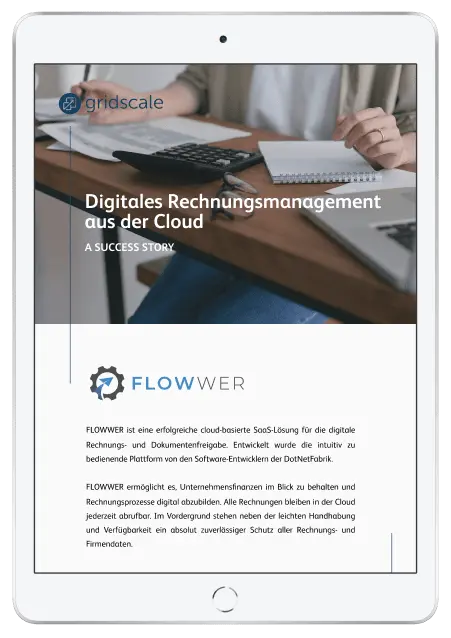 Download the Success Story
Our Success and Partner Stories are also available for free download in PDF format. You can find many more exciting stories in our story overview or as a convenient PDF to take home in the Download Center.