Overview
hosttech GmbH, founded in 2004, is one of the largest Internet service providers in Switzerland.
Branche
Webhosting and Datacenter Services
Employees
40+
Customers
60.000+
gridscale products in use
• Hybrid Core
• Storage
• Managed Kubernetes
• GPU
• White-Label-Lösung
The goal
The acquisition of new customer groups and the expansion of the hosting offering to include freely scalable public cloud infrastructures formed the starting point for the close cooperation between hosttech and gridscale. Today, both companies jointly serve cross-border cloud customers in the entire DACH region from their locations in Germany, Austria and Switzerland.
Challenges
hosttech would have had to build up a lot of its own expertise and make more extensive investments as part of the development of its own cloud platform in its data centers. Thanks to the use of the Hybrid Core and a market-established technology, the launch of the hosttech Virtual Datacenter and the promotion of the new offering could take place in a very short time.
The solution
The white label solution from gridscale, which convinced hosttech above all with its simple setup and straightforward handling. The gridscale Hybrid Core transforms hosttech server systems and data centers into a public cloud in no time at all.
gridscale is ahead of the game, both in terms of technology, communication and costs. And if we get stuck, we are always helped quickly and reliably.
Manuel Kälin, CTO hosttech GmbH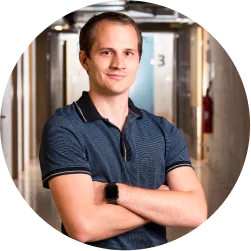 Interview with Manuel Kälin, CTO
Manuel, you have been successful in the Internet and hosting business with hosttech since 2004. What prompted you to launch your new hosttech.cloud platform together with gridscale?
We wanted to better meet customer needs in the direction of the cloud. We have been offering virtual servers for some time now. However, we have received requests from users who want more options and freedom in terms of server configuration and setup. These customers want to control themselves how much memory, CPU or RAM they use and for how long, or whether they can set up an internal IP network, for example. For such access options, we would have had to invest a lot of time, manpower and engineering to build up the necessary expertise. For this reason, we looked around the market for a suitable technology partner and finally contacted gridscale.
So your goal was to offer your customers a modern public cloud operated by hosttech.
Exactly. We already operate cloud clusters. Until now, our customers ordered virtual servers of the desired size via our website, which we then set up and launched for them. With the new hosttech.cloud, customers can log in directly – in self-service, so to speak – and define from A to Z how their VM will be provisioned. This is much faster for our user than the more or less complicated order process in the past. In addition, he can adjust his infrastructure resources within minutes and start up or shut down servers by himself.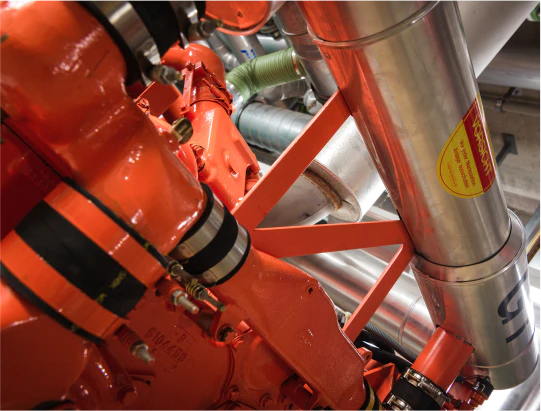 Has the attitude towards the cloud changed in recent years? How has the new public cloud offering been received by your customers?
After a beta phase in the summer, we made the platform official in November 2020. In a relatively short time, we even had more public cloud users than we expected at such an early stage. It is noticeable that we have a high demand on the market here. We are very satisfied with the launch of hosttech.cloud.

How did you ultimately decide on the Hybrid Core? What tipped the scales in favor of gridscale?


Of course, we also looked at competitors and had experience with other products in the past, but gridscale is ahead of the game for us, both in terms of technology, communication and costs. It is a great advantage for us that we do not have to worry about development, maintenance and management of the platform. That's all up to gridscale. We can fully concentrate on selling hosttech.cloud. The advantages for our customers are the reliability and the simple, intuitive operation. Pay-as-you-go billing is also a good selling point for us.
Your hosttech.cloud customers only pay for what they actually use.
Yes, you don't have to book fixed packages, you are only charged for the resources that are actually running. For example, if a server is no longer needed, you simply switch it off. Customers have a minute-by-minute overview of the costs for compute, storage and network in their web interface at all times.
You use the Cloud Panel as a web interface for your public cloud customers in the white label solution.
The hosttech.cloud is 100 percent a hosttech offering in our CI. Underneath it lies gridscale's technology and functionality. And they are excellent. With more complicated web interfaces that we tried in the past, there were always problems because configurations didn't run correctly. gridscale, on the other hand, is stable and reliable. The interface is not only intuitive and fast, it also helps you to optimally link resources. Our customers need neither training nor in-depth IT expertise to use it. We get very positive feedback on the usability of hosttech.cloud.
How did the installation and setup of the Hybrid Core go on your systems?
After consultation with gridscale, we prepared the appropriate hardware in our data center for the Hybrid Core. The gridscale experts took care of the rest. The setup of the core and the commissioning of our public cloud went smoothly. Beforehand, we were able to test the system extensively and our employees were introduced to the partner panel, which is also simple and clear. The whole process was delightfully straightforward. The good communication with the people at gridscale is still a decisive argument for us to work with gridscale.
Are you in regular contact with the experts at gridscale?

We can clarify 95 percent of all customer questions ourselves without any problems. But if we get stuck, we always get help quickly and reliably. There are no long lines. But we are also in regular contact with gridscale. We pass on feedback from our customers and discuss together which features might still be in demand. It really is a constructive partnership.
What is the Hybrid Core?
The partner provides the hardware, gridscale takes care of the rest.
The Hybrid Core is a managed on-premises data center for hybrid operation of a public and private cloud. The customer provides the required hardware in his own data center – gridscale takes care of setup and platform management. Via the simple web interfaces or directly via our gridscale APIs, the customer controls his own hardware, operates VMs, manages his customers and can rely on a secure operation of his cloud workloads.
In this way, users of the Hybrid Core offer their customers a reliable and powerful cloud environment from their own data center. Including their own corporate design and intuitive user guidance, developer tools, integrations and marketplace, templates and automation routines.
The maintenance of the operating systems, updates, installations and import of new functionalities as well as monitoring remain with gridscale. The hybrid core user can concentrate entirely on the marketing and success of his business applications.
Interview with Felix Kronlage-Dammers
Head of Development at gridscale
Why are companies interested in the gridscale Hybrid Core?
On the one hand, control over their own data. On the other, customers want to offer modern IaaS and PaaS in their own data center without having to build up expertise in system management for a cloud platform. Our Hybrid Core enables the partner to do this. He can focus entirely on his core business.
And he doesn't have to worry about anything anymore?
Using the gridscale interface, which he is often already familiar with, he manages his cloud workloads on his own hardware. For everything below that, we take over complete operation. We even notify him when hardware is faulty somewhere and needs to be replaced.
You say that many customers already know the interface and the gridscale cloud.
Yes, this is a typical customer journey. A company is a white label customer and runs its public cloud in one of our data centers. At some point, he is so enthusiastic about it that he also wants to convert his own data center to this technology.
Support and communication remain for him, however.
Of course. We provide our Hybrid Core Partners with best practices and show them how best to implement desired scenarios and requirements. For us, consulting and regular exchange are part of this.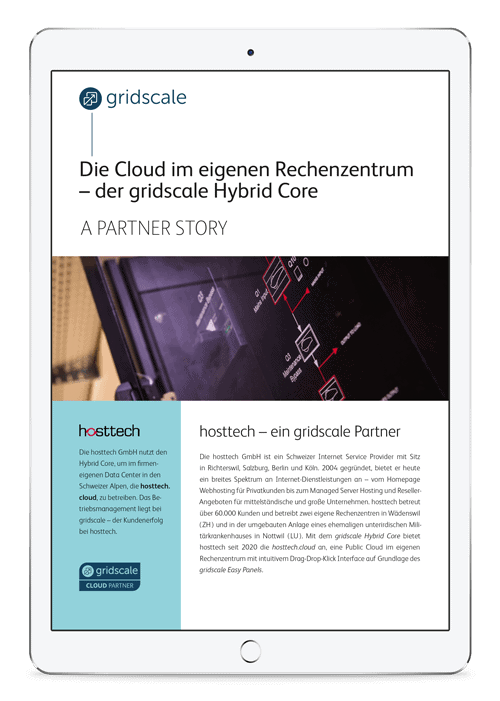 Download the hosttech Partner Story
Our Success and Partner Stories are also available for free download in PDF format. You can find many more exciting stories in our story overview or as a convenient PDF to take home in the Download Center.