You are in the spotlight
Your brand. Your cloud. With just a few clicks, you can present your new offer in your own corporate design. On your mark, get set, sales!
Maximum added value
We want you to be successful. Your cloud as a managed public, private or hybrid cloud? You decide which one suits you best!
Start from the pole position
With our support, you'll quickly be at the top. In marketing and sales, for example. You can fully rely on our cloud business expertise!
Your customers love you
Best performance? Check! Easy as pie? Check! 100% availability? Check! GDPR compliant? Check! Make your customers happy.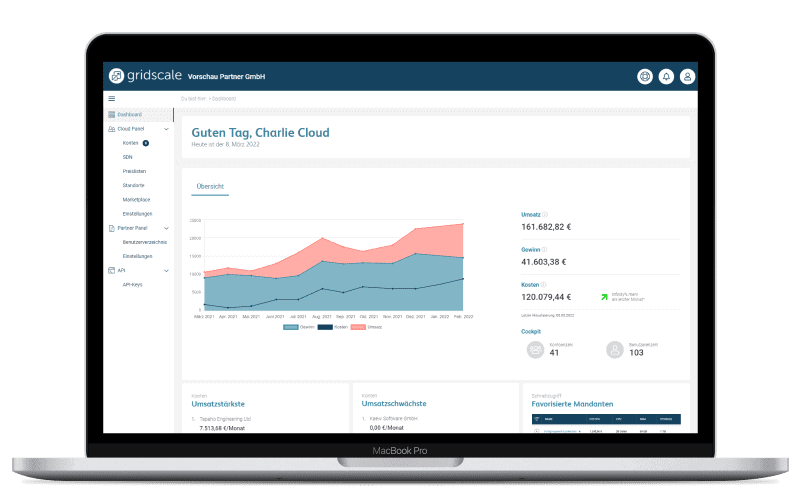 Just Makes Your Life Easier
The gridscale partner panel is designed by UX experts and made for you. All your tasks can be organized in one central point. See which of your projects is growing the most. Define individual features and prices for your customers or see how high your margin is. You can automate your most frequent tasks with just a few clicks.
Use Cases: Tailored for your business
Cloud Enabling for…
Full-Service Agencies
gridscale is ideal for running and managing numerous projects in parallel for different clients. Whether during the project phase or as a development environment, as a test instance for live simulation or even as a permanent productive environment. We support agencies in the implementation and IT operation of their digital campaigns and client projects. From the interactive app to the autoscaling eShop. From personalized web portals to smart products on the Internet of Things. Expand your services to a full-service offering and use the gridscale cloud infrastructure as you need it.
System houses and IT service providers
Your customers – your cloud. gridscale respects your business relationships and supports you in maintaining an optimal trust relationship with your clientele. While American providers are eager to know who your customer is, this is protected at gridscale. For us your success counts. We support system houses and IT service providers in expanding their services and ensure speed on the path to cloud transformation. With a fully managed fixed-and-ready solution for the public, private or hybrid cloud. Count on gridscale and on more revenue in the IT services business.
I Would Like to Receive Advice on the Partner Program