Cloud orchestration at the click of a mouse
The Hybrid Core transforms your data center and hardware infrastructure into an integrated control center for compute, storage and network capacities from the cloud that can be called up at will. Fast, simple, just-in-time.
Maximum efficiency
Enjoy all the cloud benefits and freedom to run your apps and workloads. As a private cloud in your own data center, in the public cloud or in a hybrid mixed model.
Best-of-Breed Cloud Deployments
Complicated and isolated was yesterday – today's IT is a software-driven, distributed resource pool. Cloud-based, hybrid and flexible. Highest availability and security for your data and applications.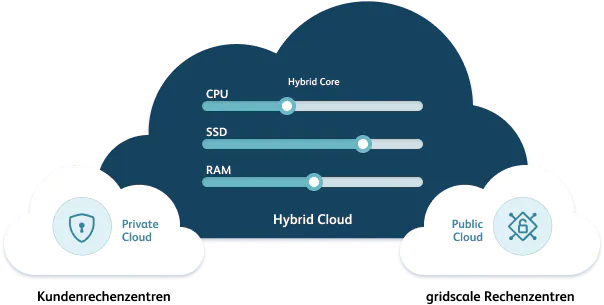 Hybrid Cloud: Your step into the digital future
New technologies, mobile work, cloud-native computing, sophisticated enterprise IT… Companies and data centers are facing major challenges and a huge modernization push. Rigid server structures and linear processes have had their day: The gridscale Hybrid Core provides the necessary tech refresh and innovation boost on your path to digital transformation.
The gridscale Hybrid Cloud transfers the existing IT in your data center into a modern cloud infrastructure. Productive operation in the public cloud and local backup on-prem? Horizontal or vertical scaling? Hybrid operating models, dual data center concepts or demanding high availability scenarios? In the future, everything will be just a click away for you!
With the gridscale Hybrid Core you combine the advantages of the gridscale public cloud, such as ease of use, cost efficiency and any elasticity with the security and controllability of a private cloud. Predefined templates and a comprehensive feature set save you time and accelerate your processes.
The gridscale Hybrid Cloud at a glance
Your Hybrid Core – Full Service
Do you want to take advantage of the hybrid cloud, but you don't have the proper hardware? No problem – we've the right hardware partner for you, so you can benefits from the flexible gridscale hybrid cloud solution with no effort whatsoever. With the full-service option, you get the right Hard- and Software provided by us.
Receive a competitive discount and save money when you sign up for the 3-year package!
The implementation takes place in cooperation with Thomas-Krenn.AG
Prices have been rounded and may differ from the final price.
1 year
contract period
€ 12,000/month
2 years
contract period
€ 10,800/month
10 %
3 years
contract period
€ 7,800 €/month
35 %
Your Hybrid Core in your own data center
Would you rather run your hybrid cloud using your own hardware? Perfect – we'll provide you with the right software to convert your existing data center Infrastructure into a modern cloud environment. Hybrid operating models, dual data center concepts and sophisticated high availability scenarios are just a click away!
Prices have been rounded and may differ from the final price.
1 years
contract period
€ 2,500/month
2 years
contract period
€ 2,350/month
6 %
3 years
contract period
€ 2,100 /month
16 %
Are you interested in your own Hybrid Cloud? Let us advise you!
Curious about how gridscale can increase agility and efficiency in your company and align your IT operations for the future? How you, as a system house and IT service provider, can use the Hybrid Core to place completely new managed services with your customers and thus address sustainable sales and upselling potential?
Let us advise you and come into conversation with us!
[…] The more clouds are bundled in a company's own multi-cloud, the greater the effort for responsible parties to find legally compliant services. The recommendation is clear: personal data is best stored in a private cloud and not transferred to international public clouds. […]
[…] Virtual locations, such as those provided by gridscale, are an alternative to in-house operation, particularly in the case of high compliance requirements or the need to make a certain computing power available at all times, also as a supplement to workload deployment in the cloud. […]
[…] Hyperconvergent infrastructures are awakening from their slumber: In the future, 40 percent of companies want to significantly increase the flexibility and agility of their IT infrastructure by using mixed cloud models. […]
[…] An own cloud requires system houses to make high investments in their data center. A white label solution is a cost-efficient alternative. The reseller uses the resources and expertise of a cloud provider. The cloud stack of the provider becomes the "operating system" of the data center and provides the system houses' customers with cloud services. […]
[…] Hyperconverged systems provide the entire data center as a virtualized service. With HCI as a managed service, the data center as a whole becomes a service offering. Many companies are thus able to purchase higher-quality and higher-performance IT resources than they could provide themselves. […]
The advantages of the gridscale cloud
Openness and transparency
Sovereignty and self-determination
Modularity and interoperability
Are you ready to start?
Or do you still have questions? Create your free account now or get a personal consultation.