Make complex technology easily accessible! With our newly developed functions within our user administration, which now enables you to work even more flexible, we have come one step closer to this goal. The new functions can be found especially in the structure and the administration possibilities between user, account and project.
The lynchpin of our user administration is the account. In the past, you as a user could access different projects via your single account. We have replaced this strictly hierarchical structure with a more flexible account based solution. It is now possible to invite a user to several accounts and thus give him access rights to the projects assigned to the account.
In addition, we allow our customers to store multiple users with individual access rights. This gives you more control and at the same time increases the security of your systems by restricting access rights at account and project level.
Account management in practice
So much for the theory. Below you will find a step by step guide on how to work with our user administration in practice. In the menu bar in the gridscale panel you will find the menu item "user administration" in the upper right corner under your account settings.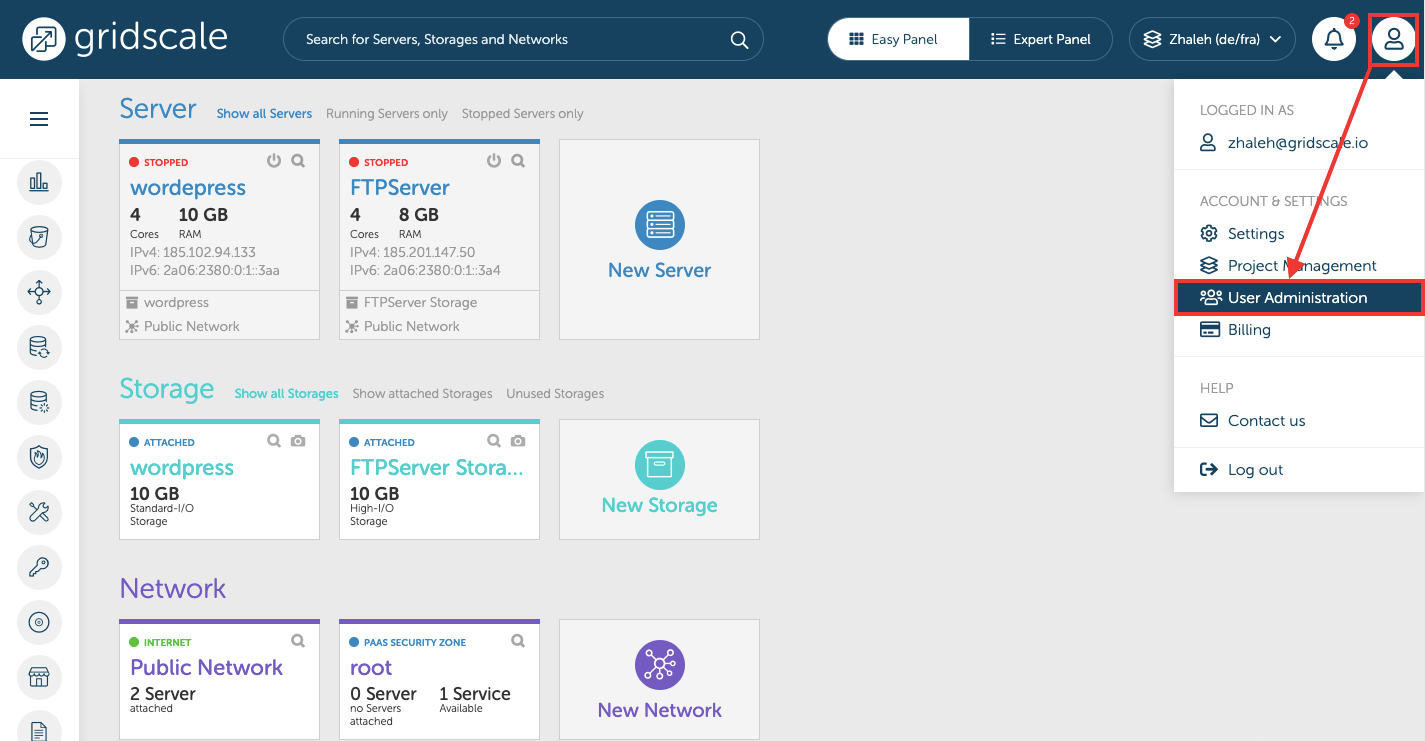 Invite a user
Here you can create an individual invitation via URL link for other users with just a few clicks. At the same time, you can also set the access rights of this user in your account. You can choose between "read only", "read and write" and "administrator". After you click on "Invite", the invitation details with the token and the most important information are displayed.
Using the invitation URL you can invite other users to your account. Important: the link can only be accessed once and is no longer valid after that. This effectively prevents abuse and increases security by preventing man-in-the-middle attacks, for example.


In the overview of the user administration you can now see the open invitation. As long as the invitation has not been accepted, it is still displayed as "valid". If it was accepted successfully, you will find the invited user in the user overview. If an error occurred during the invitation, the invitation is classified as "expired".

Accept an invitation
Invitations can be accepted by existing users as well as by new users who are not yet registered. All you need is a valid email address to register. It is also possible to create a new user account if, for example, you are working on private projects with your existing account and don't want to combine this account with professional projects.
Different user roles
Finally, we give you a short overview of the different user roles that you can use for specific purposes:
The owner or holder of the account who has a contract with gridscale. There is always only one owner who is responsible for legal aspects. For example, this owner is the only one who can see the billing for costs incurred.
If you have administrator rights, you can manage users. However, he has no access to contract and billing relevant details.
With writing permission, the administration and adjustment of the project infrastructure is possible.
With an access with reading rights it is not possible to make changes to the infrastructure and user administration.
More flexibility in the administration of users
With our new functions within the gridscale user administration we create new possibilities for cooperation and coordination of users, accounts and projects. The access to several accounts and projects with appropriate access rights offers security and clarity especially for gridscale partners with several projects and customers. In this context our new multi-project feature is also interesting.
Zhaleh Abdali | Online Marketing
Zhaleh studies applied information science at the TH Cologne and supports us as a working student in the field of online marketing. In her free time she likes to go for a walk or inline skating.