Key Results

Realization
ThinxNet had built up an extremely complex infrastructure at its former IT service provider with different database clusters, application servers for the native apps and several Kubernetes instances for development, staging and live operation. In a first step, all existing servers and containers were migrated to the new cloud platform. Since the previous provider did not support some of the gridscale features, these were successively integrated into ThinxNet's gridscale architecture in a second step. For example, the company now also uses the snapshot functions to safeguard current server states in the event of a fault.
Speed and reliability
Shortly after the migration of the first workloads, it became clear that the performance and availability of the gridscale infrastructure were significantly superior to those of the previous provider. "The performance of our applications has directly accelerated many times over and we have actually never had to record a system failure since then," says Christoph Geiser happily.
DevOps and "Infrastructure as Code
A particularly positive feature for ThinxNet is its support for demanding DevOps scenarios, in which the IT infrastructure can be managed entirely via script. The open architecture and the API, which is easy for administrators to use, allows extensive automation of all important processes. This enables ThinxNet to use the usual DevOps tools such as Puppet, Jenkins or Docker and to configure and orchestrate the entire infrastructure as code. This saves developers in particular a lot of time and nerves, as new servers for their use case can be started simply "at the click of a mouse".
gridscale guarantees our customers a consistently positive user experience thanks to arbitrary scalability and data processing in accordance with strict German data protection regulations.
– Christoph Geiser –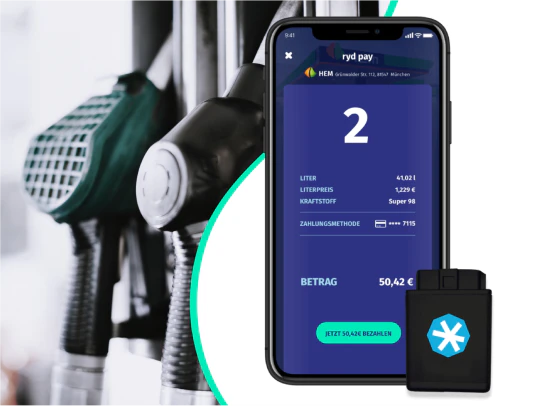 Multi-client capability
ryd App and ryd Pay use a close cooperation with business partners, such as petroleum companies or insurance companies, for some convenience functions like the price comparison of the gas station finder. The data or functions used specifically by the partners and the other customer information and features of the apps must be managed separately and strictly separated. The respective clients and their access options can be managed easily and reliably by ThinxNet via the partner panel integrated in gridscale and a graphical interface.
Data privacy and compliance
Business partners from the insurance industry in particular have high data protection and security requirements. The reason here is the compliance requirements of the Critical Infrastructures Act (KRITIS), the EU General Data Protection Regulation (DSGVO), and the other legal rules for insurers. But end customers are also pushing for maximum security: they want data to be stored in accordance with strict data protection requirements and do not want their transaction data to be transferred to insurance companies. Here, German data centers under the DSGVO regime and the BMWi certification of gridscale as a Trusted Cloud are a decisive argument for high credibility and user acceptance of ThinxNet's entire IoT ecosystem.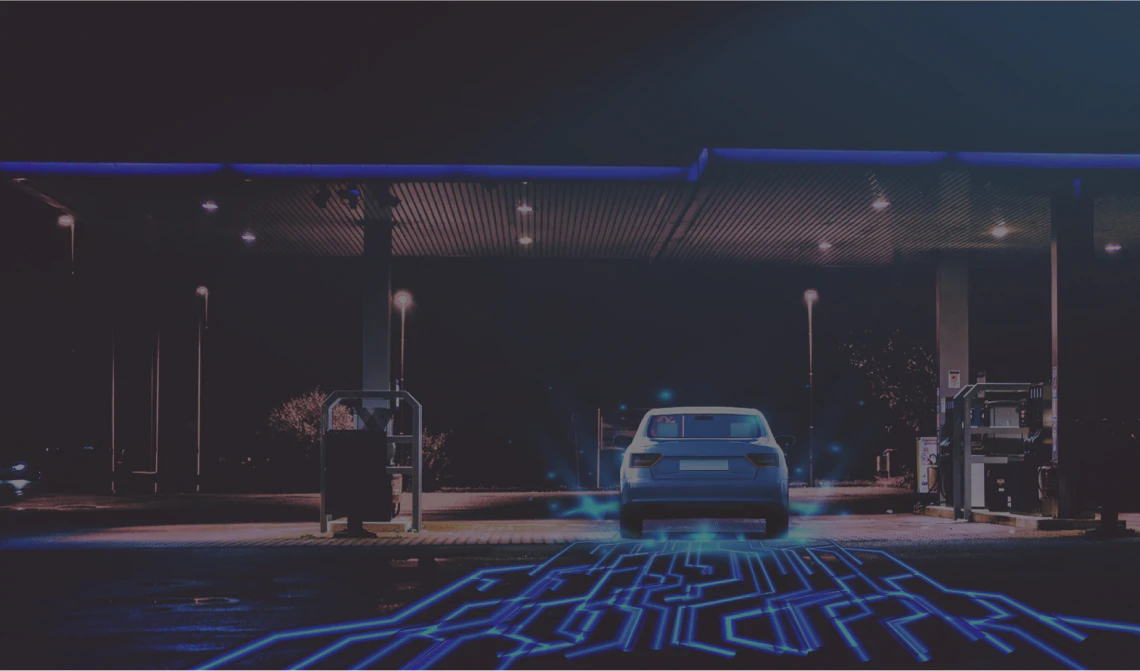 Summary
ryd has quickly become one of the leading IoT platforms in the automotive sector and brings together partners from different worlds, industries and value chains. Several hundred thousand customers from Germany, Austria and Switzerland are already using ThinxNet's telematics services. Tendency strongly rising!
In view of the rapid growth and ongoing internationalization, application reliability and high performance remain key criteria for business success. Additional resources, for example for different geographical regions, are ready for use within a few minutes via the gridscale cloud infrastructure. It also allows problem-free implementation of, for example, multilingual apps or automated backend routines. The result: greater efficiency in live operation and in the further development of products.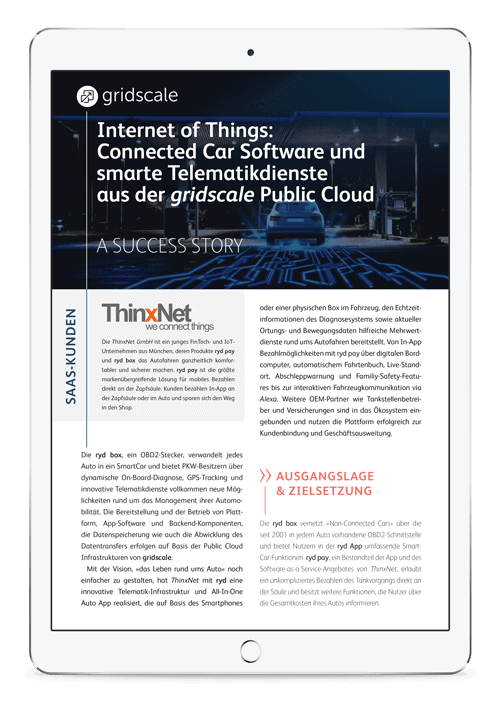 Download the Success Story
Our Success and Partner Stories are also available for free download in PDF format. You can find many more exciting stories in our story overview or as a convenient PDF to take home in the Download Center.