Overview
Founded in 1994, the Karlsruhe Transport Association is the third largest in its sector in Baden-Württemberg.
Passengers
170 million+ per year
Lines
260 train and bus lines
Route network
4000 km+ with approx. 1,900 stops
gridscale products in use
• Public Cloud
• Cloud Storage
• Cloud Load Balancer
• Private Netzwerke


The goal
Digital information services are among the most important building blocks of customer service in public transportation. With an integrated solution comprising a convenient ticket app and comprehensive passenger information, the Karlsruher Verkehrsverbund KVV wants to play a pioneering role in Germany. High availability and lightning-fast response times were therefore central to the choice of a suitable IT operating platform.
Challenges
User behavior and the intensity of access to the digital timetable information system and the connected applications are subject to major fluctuations. The infrastructure must be able to seamlessly compensate for performance peaks during rush hour, events, or unforeseeable weather conditions. In addition, particularly strict data protection requirements, especially for public companies, demand compliance with very high security standards.
The solution
Against the background of the required scalability and security, the option of classic server operation in the company's own data center was rejected as both insufficient and uneconomical. With gridscale, KVV relies on a cloud-based, "breathing" infrastructure that also dynamically cushions extreme access loads. The system can be expanded at any time with just a few clicks to include memory, storage or processing cores without any loss of performance, disruptions or downtime. Operation itself takes place in the gridscale high-security data center in Frankfurt.
Key Results
Fast response times with > 1 million accesses/month
Flexible scalability for power peaks
Integration of real-time data and passenger information
We're talking about situations where you can't react fast enough in your own hosting and with non-virtualized data centers.
Maximilian Obenaus, Chief Information Officer at KVV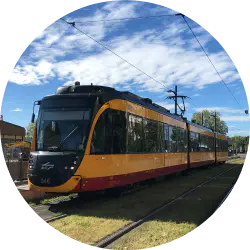 Initial situation and objective
The strong increase in passenger numbers, more and more public transport-related apps, and an exponential increase in digital requests demand a continuous expansion of IT structures. With a classic on-premise solution, such dynamic growth can no longer be mapped cost-effectively. However, the selection of a suitable public cloud provider at KVV was subject to a demanding list of requirements including scalability, high availability and security.
Performance and reliability for millions of passengers
Web-based offerings are among the most important components of KVV's customer service. Timetable information in particular is one of the critical factors here. Numerous connected systems rely on the information provided at all times, including several ticket apps, displays of passenger information at stops, and real-time integration in Google Maps.
Maximilian Obenaus, Chief Information Officer of KVV, makes the importance of the infrastructure clear: "If it doesn't work for half a day, with 170 million passengers a year, you can quickly calculate how many customers we alienate." Performance and high availability were therefore fundamental requirements for the cloud infrastructure.
The uncomplicated, fast communication was particularly pleasant. We were accompanied very competently, even with very specific questions and requirements. With gridscale, we now have a partner who technologically enables and reliably accompanies our dynamic growth.
– Maximilian Obenaus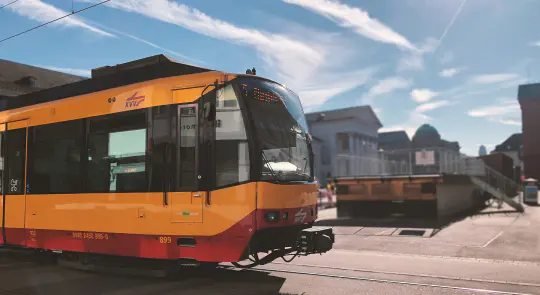 Long-term growth and daily performance peaks
On-premise solutions cannot react quickly enough to the special scaling requirements of a transport association like KVV. Servers have to be added again and again, and new functional requirements have to be met reliably. The necessary flexibility can now only be provided cost-effectively in virtualized environments. "We wanted to go to the cloud so that we wouldn't have to rethink the dimensioning of the IT infrastructure at regular intervals," explains Maximilian Obenaus. What applies to long-term growth is also reflected in daily operations. "Local public transport, and with it access to timetable information, is subject to decidedly strong fluctuations," says Obenaus.
"We're talking about situations where you can't respond fast enough in your own hosting and with non-virtualized data centers." Performance peaks during rush hour, due to events or unpredictable weather influences must be compensated seamlessly and fail-safe by vertical scaling of IT performance.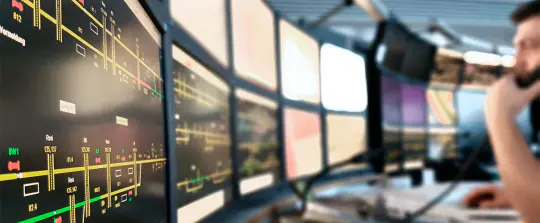 Data protection as an exclusion criterion when choosing a cloud provider
The strict data protection requirements for personal services considerably narrow down the field of candidates for suitable cloud providers. For example, it is a mandatory requirement that all data remain in the German legal area. The legal framework set out by EU laws must be demonstrably met. This legally prescribed security requirement is without alternative as a selection criterion. Cloud operation with large global hyperscalers was therefore out of the question for those responsible at KVV right from the start.
The uncomplicated, fast communication was particularly pleasant. We were accompanied very competently, even with very specific questions and requirements. With gridscale, we now have a partner who technologically enables and reliably accompanies our dynamic growth.
– Maximilian Obenaus
Realization
In the competition for the best cloud solution, gridscale was able to prevail in all points at the Karlsruher Verkehrsverbund. Several German cloud providers were examined by KVV and subjected to numerous functional and performance tests. "In the end, gridscale convinced us the most," says Obenaus, explaining the choice of gridscale. In addition to the complete fulfillment of the catalog of requirements consisting of security, high availability and scalability, not least the good personal consultation played a role.
Successful migration and easy operation
KVV was able to migrate its existing infrastructure setup to the gridscale cloud without any problems and expand it further. Thanks to the high usability of the gridscale panel and the reliable gridscale support, the move was realized in record time. Only a quarter of a year passed from the conclusion of the contract to the operational solution. Within a short period of time, the system was running at high performance and absolutely trouble-free. All employees who are entrusted with the system have very easy access to the backend via the cloud panel in order to start, shut down or even add servers. And, as Maximilian Obenaus points out, "… without having to spend hours digging through some manual."
Easy scalability
The system has already been expanded several times since it went live in order to respond to increasing data volumes and higher computing requirements. With gridscale, KVV has a cloud infrastructure that can keep pace with the company's growth in the long term. With no performance disruptions, downtime risks or downtime, the highly available system can be expanded with memory, storage or compute cores with just a few clicks. "When new requirements come in, we can respond at lightning speed today thanks to gridscale." Manufacturers of apps and services can also easily access the systems during development via numerous APIs. Servers can be cloned quickly and easily for test runs and preliminary simulations.
Data protection in certified high-security data centers
The KVV's data and application are stored with multiple redundancies in a German data center certified to the strict ISO 27001 standard. All data protection and IT compliance requirements in the public sector are guaranteed at all times. The Trusted Cloud seal of approval from the BMWi, with which gridscale was awarded, also guarantees quality, security and legal compliance for the KVV in accordance with the strict standard of German data protection regulations.
Summary
The move to the gridscale cloud was an important and successful step for KVV in response to the rapid digital growth in local public transport. A step that also makes economic sense. All operating costs remain completely transparent in the gridscale cloud. Without the constraint of having to buy fixed price packages, the pay-as-you-go model guarantees that only the resources that are actually used are charged for.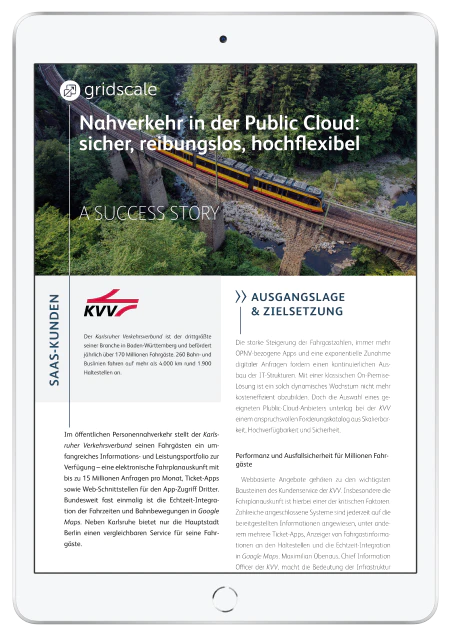 Download der Success Story
Unsere Success und Partner Stories gibt es auch zum kostenlosen Download im PDF-Format. Viele weitere spannende Storys findest du in unserer Story-Übersicht oder als bequemes PDF zum Mitnehmen im Download Center.