Overview
BUTLERS, founded in 1999, operates 130 stores across Europe and records around 40,000 online orders per month.
Branche
Retail chain for home accessories and gift ideas
Employees
1000+
Customers
40 Mio+
gridscale products in use
• Public Cloud
• Storage
• RESTful API
The goal
Retail is a volatile and often highly seasonal business. This is particularly true for BUTLERS as one of the best-known German brands for gift ideas. A fully managed cloud platform that can be scaled as required had to be designed to take this dynamic into account and provide both merchandise management and other business-critical core applications in stationary and online retail with a fail-safe and "breathing" IT infrastructure at all times.
Challenges
High access numbers and sometimes considerable fluctuations in usage behavior place the highest demands on IT systems. At peak times, up to 12,000 database transactions per second have to be handled. Maximum performance, flexible scalability and 100 percent availability of the IT infrastructure are indispensable here.
The solution
BUTLERS GmbH relies completely on the technology and performance of the gridscale cloud for its global merchandise management. Today, the entire purchasing, scheduling, warehouse system and fulfillment runs via virtual servers in the gridscale high-security data center.
Key Results
High availability during performance peaks
Instant scaling of all resources
Significant cost reduction
The quick move to the gridscale cloud was outstanding and on a level I have rarely experienced. I am still impressed today. Such a good collaboration is really rare.
Andre Martens, Head of IT at BUTLERS GmbH & Co. KG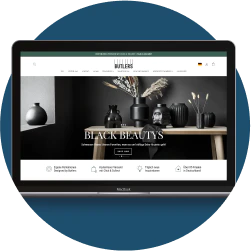 Initial situation and objective
In Germany, Austria and Switzerland, BUTLERS operates its own stationary stores as well as an online shop. In other countries, franchising is the mainstay of the company's growth. There are now BUTLERS stores in Ukraine, Hungary, the Czech Republic, Malta, France, Luxembourg, Greece and Ireland. In addition to the stationary stores, online retail is also becoming increasingly important for the company.
BUTLERS already generates 20% of its sales through its online store and via large marketplaces such as Amazon, Otto or eBay. BUTLERS shows how you can emerge even stronger from a corporate crisis with the right strategy. After a restructuring phase lasting only eight months, BUTLERS launched an impressive success story in 2017. In 2019, the BUTLERS Group's corporate growth was 8% and rising.
The driving force behind the upswing are the BUTLERS stores in highly frequented inner-city locations. A fast and reliable IT infrastructure is essential for the internationally networked merchandise management. It quickly became clear to BUTLERS that it wanted to implement these important core processes with an external partner.
With the previous vendor, we had bought CPU, RAM and other components for the Christmas trade, which lay idle for nine months and were only really used for three months.
– Andre Martens
"Our focus is sales and our brand idea," explains Andre Martens, Head of IT at BUTLERS, "and that carries through to IT. We want to make sure that we can present and sell our brand. It doesn't make sense for our concept to worry about hard drives and servers. I want to make sure that the tableware set or the table decorations are sold at the checkout, and I don't want to worry about whether all the hard drives in the RAID are healthy or could fail. Our IT infrastructure should be taken care of by someone who specializes in that."
Seasonal fluctuations in resource requirements
However, the demands on an IT partner are high. This is due, among other things, to the high access figures and significant seasonal fluctuations. BUTLERS' IT systems have to handle up to 12,000 database transactions per second at peak times.
The second challenge is to adapt the IT infrastructure to the changing utilization of resources. During key sales periods such as Easter and, above all, Christmas, significantly more IT capacity is required than during the rest of the year. But holding resources in reserve that are underutilized during the rest of the year is a cost factor that should definitely be saved.
The flexibility required in retail today can only be achieved cost-effectively in a virtualized IT environment. Moving the entire system to the cloud was therefore a logical step for BUTLERS. Reliable performance, fast scalability and a cost-effective billing model were among the important factors when choosing a new provider.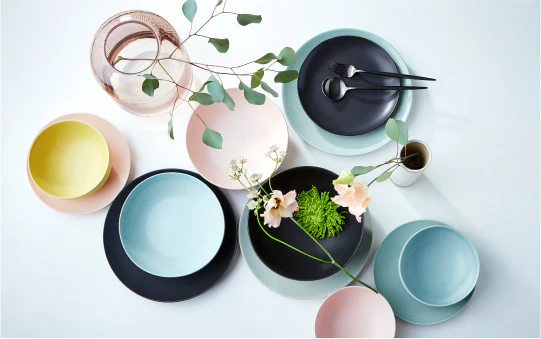 But initial experiences with other providers could not convince the IT managers at BUTLERS. "We would have liked to have the option of dynamically adapting and vertically scaling our resources at any time," says Andre Martens, describing the problem. "With the previous provider, however, we had then purchased CPU, RAM and other components for the Christmas business, which lay idle for nine months and were only really used for three months. We were unable to implement a more flexible model with the old provider. That's ultimately how we got in touch with gridscale."
Realisation
The technical concept and approach of gridscale convinced BUTLERS right away. "We were looking for a cloud partner we could absolutely rely on. We need both high availability and speed. It's no use if the server is available but the response times are 20 milliseconds because the Internet line is busy or there's a problem in the routing."
After the first discussions with gridscale, they were already sure that they had found the right partner. The experts from gridscale presented a technically convincing concept that was also significantly lower than the previous IT costs.
In addition to the technical expertise, BUTLERS was also impressed by gridscale's communication and project management. "The cooperation was immediately incredibly uncomplicated," says Andre Martens. Within a very short time, a concept for a particularly fast migration was developed together.
BUTLERS was able to migrate, adapt and expand its existing infrastructure setup to the gridscale cloud without any problems. They are still impressed with the consulting and the quick move today: "It was outstanding and on a level I have rarely experienced." Within a very short time, BUTLERS was able to move the first 17 servers to gridscale.
Performance in core business processes
Today, the entire purchasing, scheduling, warehouse system and fulfillment runs via virtual servers of the gridscale cloud. BUTLERS GmbH relies completely on the performance and reliability of gridscale for its global merchandise management – right up to the stocking of all stores.
In addition, e-mail and ActiveDirectory servers, file servers and monitoring servers are operated. A direct connection via the gridscale RESTful API ensures reliable communication with the applications of external partners. For test runs and simulations, servers can be cloned and booted easily and within minutes.
The Partner Panel's intuitive interface makes this simple and straightforward, as Andre Martens confirms, "We can create a server in two minutes, use it for 20 minutes, and then delete it. We do that regularly and that's a big benefit of the gridscale panel."
You always have a competent contact person and very short support paths. Even when we need help quickly, communication is open and transparent. At gridscale, partnership at eye level is not an empty promise. Such good cooperation is really rare.
– Andre Martens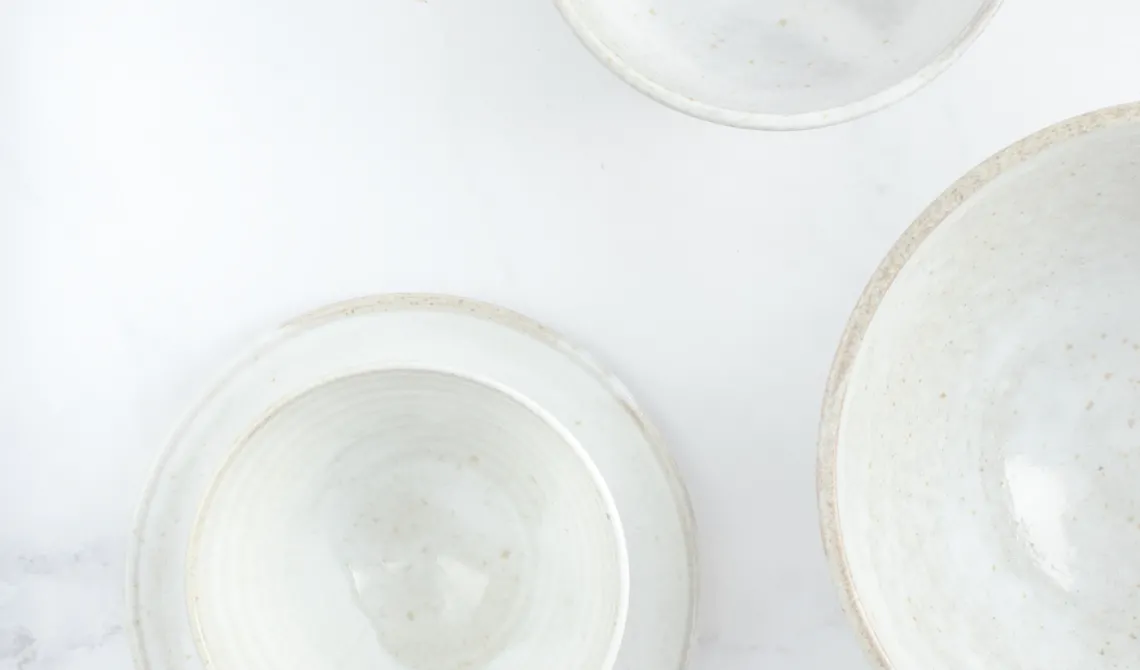 Summary
A particular advantage in the retail business is the flexibility of the gridscale infrastructure. For example, BUTLERS uses an inventory server once a year, which is shut down during the rest of the year and thus does not incur any costs. This possibility of seamless scaling of all systems is particularly evident during the Christmas season, when there must be no bottlenecks. Even high performance peaks do not lead to any restriction of availability and processing speed. This flexibility, with which it is possible to react within a few minutes in an emergency,
is of particular importance for BUTLERS' business model: "This is where we can play out a major advantage of gridscale," confirms Andre Martens. "We simply ramp up our resources at the time we need them, only pay for a few weeks or months, and then ramp them down again. With gridscale, we are completely dynamic." At the same time, the IT infrastructure does not generate any superfluous costs, because with gridscale's low-cost pay-as-you-go model, only what is actually used is billed.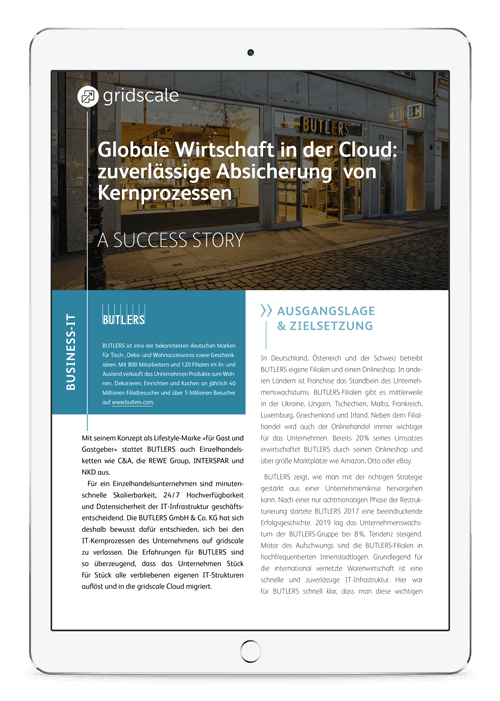 Download the Success Story
Our Success and Partner Stories are also available for free download in PDF format. You can find many more exciting stories in our story overview or as a convenient PDF to take home in the Download Center.