Geo-redundancies – useful for your company?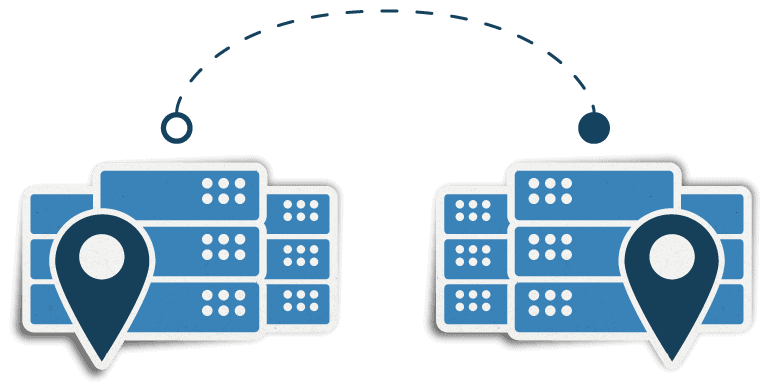 Geo-redundancies – useful for your company?
A loss of data is the super-GAU for every company and can often have a damaging effect on your business. Even a data failure of a server is often associated with a loss of revenue, for example if the online shop is temporarily unavailable. One form of reliable data backup and provision is geo-redundancy. But what exactly is it and how worthwhile is it for smaller companies and agencies?
Geo-redundancy works with two or more data centers
Two or more fully functional data centers are used for geo redundancies. Data is mirrored on these and thus simultaneously available. If one of the data centers fails, the other can take over the entire data load and thus prevent a failure. The focus of geo-redundancy, however, is primarily on preserving the data in the event of an external incident.
Damage to a data center, such as fire, leads to data loss in a data center. If, thanks to geo-redundancy, the data is still backed up at another data center several kilometers away, the data is still available.
What are the requirements for geo-redundancy?
The "Geo" in geo-redundancy makes it clear that the two data centers mentioned should work geographically independent of each other and at a spatial distance from each other. The idea behind this form of data security is that data is protected in the event of a natural impact such as fire, flooding or even an aircraft crash. It is therefore understandable that the two data centers are not located in the same building in the case of geo-redundancy.
The Federal Office for Information Security therefore believes that a good distance between the data centers makes sense. While a few years ago it suggested 10 to 15 km, as you can read in this PDF, today it recommends a distance of about 100 to 200 km. In this way, not only regionally strongly limited incidents are protected by geo-redundancy, but also larger natural disasters such as floods or earthquakes.
In principle, the greater the distance between the data centers, the greater the probability that interference or damage will occur in a long line, which can reduce the transmission rate. In addition, the technical effort required for implementation increases.
Practice has shown that international geo-redundancies can also run without problems.

Geo-redundancies are sometimes mandatory and always useful
The Federal Office for Information Security has clearly regulated when geo-redundancy is mandatory. Waterworks or electricity suppliers, for example, must always make use of geo-redundancy. This is intended to prevent catastrophic supply failures in the event of regionally limited accidents or natural disasters.
As a rule, you and your company have the choice as to whether you want to use geo-redundancy or not. In addition to data backup, this also has other well-known advantages for redundancy scenarios. In the course of updates or system changes, only one data center is currently being used. Replication is stopped for this period. If errors occur in the update, you can switch to the replica that is not affected. This prevents failures and makes it unnecessary, for example, to calculate exactly the temporary unavailability of a service or an online shop. Thanks to two or more systems and geo-redundancy, you can almost imperceptibly compensate for even minor system errors. In short: with geo-redundancy you are more reliable for the end customer.
Overview of the advantages of geo-redundancy
Are you still unsure whether geo-redundancy makes sense to you? Feel free to contact us. Until then, we have compiled the most important advantages of geo-redundancy for you here.
Secure data management for regionally limited outages caused by fire or natural disasters.
Fast mirroring of data, for example through optical networks or reliable cloud computing.
High Availability and Fault Tolerance. System errors are compensated for by two or more regionally independent servers and the availability of the data remains even if a system is temporarily switched off, for example to run an update.