Public cloud provider benchmark: gridscale named Rising Star 2021 by IT analyst house ISG
High innovative strength and future-oriented portfolio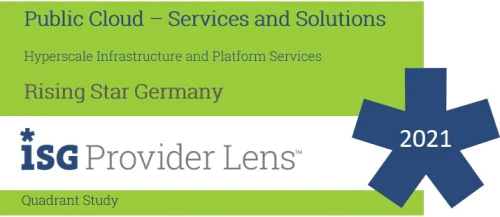 Cologne, 01 December 2021 – In its international cloud provider comparison "ISG Provider Lens", a detailed market study on the degree of innovation and service offering of many hundred cloud providers, the well-known IT analyst firm ISG recognises the advancements of gridscale technology and names the company this
year's "Rising Star" of the German public cloud provider landscape.
The award is given exclusively to providers whose offer and strategy address important trends and developments at an early stage and optimally map customer requirements. In the category "Hyperscale Infrastructure and Platform Services", the market experts particularly highlight the scope of services of the gridscale IaaS/PaaS platform as well as the rapidly growing partner ecosystem consisting of a large number of European cloud service providers.
Tailor-made offers and great potential
"We see gridscale as an industry pioneer with great potential for the future," said Wolfgang Heinhaus, ISG Lead Analyst for Germany and Switzerland, summarising this year's Rising Star award "Because with its technology, gridscale demonstrates a keen sense of the current needs in the market and offers SMEs and IT service providers in particular a comprehensive range of services that includes managed IT infrastructures and container architectures as well as complex enterprise IT and PaaS/SaaS solutions."
Flexible cloud platform for the hybrid cloud
In this context, the IT analysts emphasise the great flexibility of the gridscale platform and, from the customer's point of view, the high level of data and application mobility it offers across IT operating environments: from the private cloud in the company's own data centre to hybrid scenarios and the combination with public cloud resources from the various data centres of the gridscale partner network.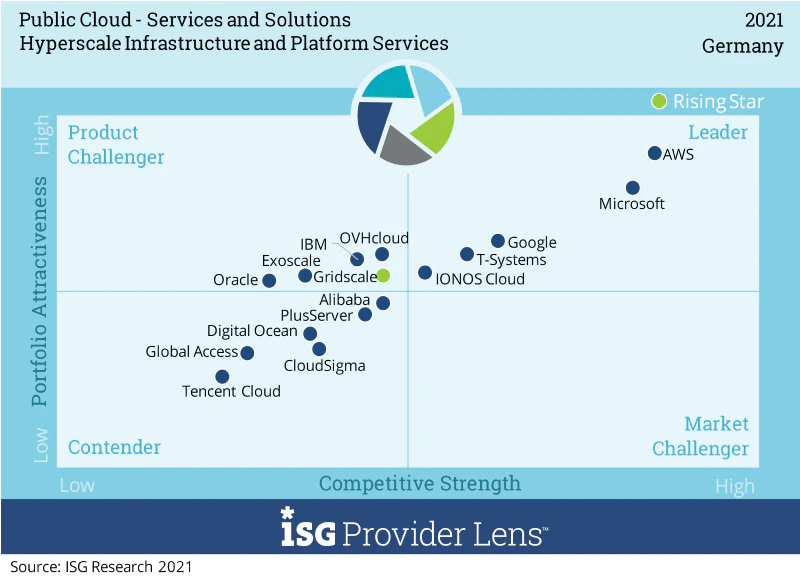 "We are very pleased and mighty proud about the recognition of our performance and strategy by ISG," adds CEO Henrik Hasenkamp. "With gridscale, the cloud becomes a scalable and arbitrarily distributed pool of resources that our customers can use virtually according to the best-of-breed principle and depending on their respective workloads. Ease of use, a high level of service and secure, fully DSGVO-compliant IT operations are particularly valued by medium-sized companies without their own cloud expertise."
Public Cloud Study 2021 available via gridscale
The overview outlines the current market view from an analyst's perspective. A more detailed analysis of the German public cloud provider market is now available free of charge for interested companies and organisations at http://mygs.io/isgaward.
About gridscale
gridscale is an IaaS and PaaS provider headquartered in Cologne. The company stands for easy-to-use and flexible cloud technologies. gridscales' intuitive interface design empowers people without in-depth IT knowledge to manage the IT infrastructure while a Kubernetes environment facilitates the management of cloud-native workloads. Thousands of companies, agencies and managed service providers already rely on gridscale to implement and operate their digital projects – from high-traffic webshops to complex SaaS or enterprise IT solutions. White-label options are available to resellers and with the gridscale software 'Hybrid Core' data centre operators themselves can become cloud providers. gridscale with its about 100 employees is led by Henrik Hasenkamp.
About ISG
ISG (Information Services Group) (Nasdaq: III) is a leading global technology research and advisory firm. A trusted business partner to more than 700 clients, including more than 75 of the 100 largest companies, ISG helps enterprises, public organisations, and service and technology providers achieve operational excellence and accelerate growth. The company specialises in digital transformation services including automation, cloud and data analytics, sourcing consulting, managed governance and risk services, network operations services, technology strategy and operations design, change management, and market research and analysis in emerging technologies. Founded in 2006, ISG, headquartered in Stamford, Connecticut, employs more than 1,300 professionals working in more than 20 countries. ISG's global team is known for its innovative thinking, valued voice in the marketplace, deep industry and technology expertise, and world-leading market research and analytics resources based on the industry's most comprehensive market data. For more information, visit www.isg-one.com.
Presse contakt
PIABO PR GmbH
Paul Gärtner
Tel.: +49 (0)30 257 6206-273
gridscale@piabo.net