Cloud expertise from Cologne: gridscale named Rising Star 2022 by IT analyst house ISG
Attractive offers for small and medium-sized enterprises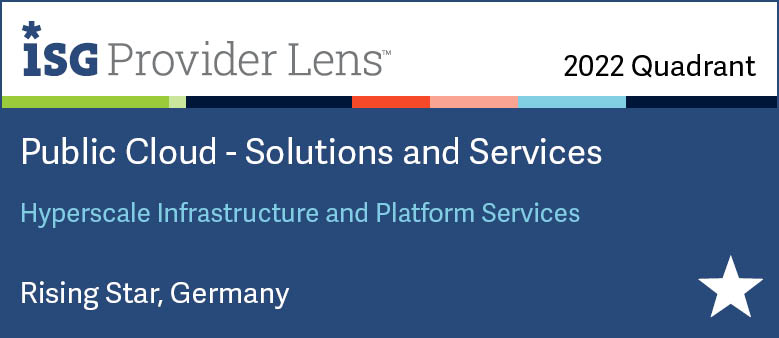 Cologne, January 26th, 2023 – For the second time in a row, IT analyst house ISG has named German cloud provider gridscale a "Rising Star" in the cloud industry. In its international provider comparison "ISG Provider Lens", a comprehensive market study on the performance and innovative strength of many hundred cloud providers, ISG recognizes outstanding companies every year whose offering and sense of trends and developments clearly stand out compared to competition.
In the category "Hyperscale Infrastructure and Platform Services", the market experts once again highlight the scope, attractiveness and further development of the gridscale Public Cloud as well as the growing gridscale ecosystem consisting of numerous European cloud service providers. The gridscale Enterprise Cloud offers data center operators as gridscale partners a turnkey plug-and-play environment for building, managing and marketing their own cloud services.
Extensive certifications and protective measures, which extend to the automatic detection of anomalies via deep learning algorithms, guarantee trouble-free and secure IT operations. In the further development of the gridscale portfolio, ISGparticularly honors the new offerings on high-performance computing and in the processing of demanding workloads in the areas of AI and machine learning.
"The attractive, further developed portfolio offers great potential for SMEs," said Wolfgang Heinhaus, ISG Lead Analyst for Germany and Switzerland, summarizing gridscale's good position and rating. "gridscale offers a powerful IaaS/PaaS platform that is constantly improved with innovative services and can be delivered on-premise or in the secure gridscale data centers. gridscale's offering is convincing and has once again been recognized as a Rising Star."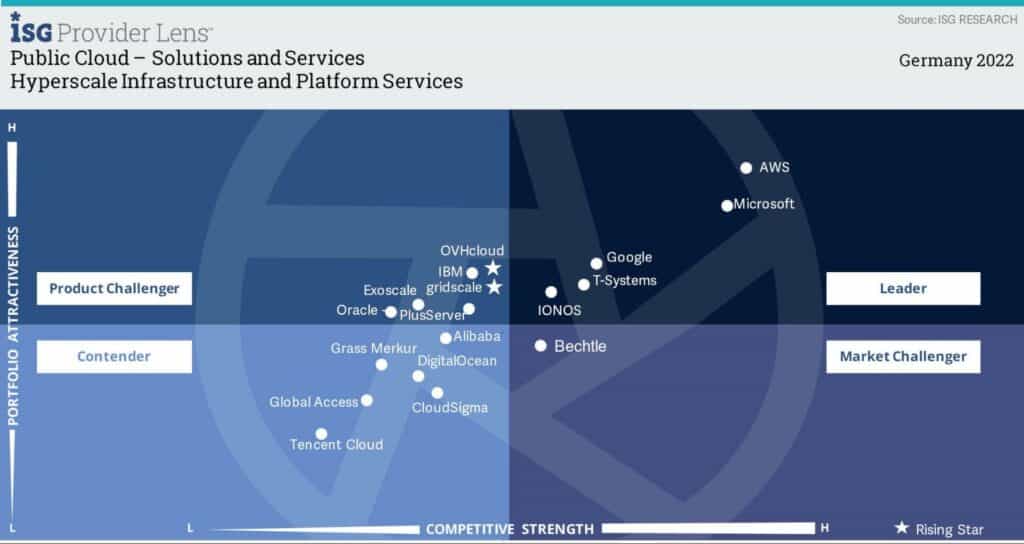 "We are very pleased that gridscale is the first cloud provider ever to be named a Rising Star and industry pioneer now for the second year in a row," adds gridscale CEO Henrik Hasenkamp, "We are also happy to share this award with our many new gridscale partners who contribute to the joint success and rapid growth of our gridscale ecosystem with their various cloud solutions."
The overview outlines the 2022 market view from an IT analyst's perspective. A detailed view of the German public cloud provider market is now available free of charge for interested companies and organizations here.
About ISG
ISG (Information Services Group) (Nasdaq: III) is a leading global technology research and advisory firm. A trusted business partner to more than 800 clients, including more than 75 of the world's top 100 enterprises, ISG is committed to helping corporations, public sector organizations, and service and technology providers achieve operational excellence and faster growth. The firm specializes in digital transformation services, including automation, cloud and data analytics; sourcing advisory; managed governance and risk services; network carrier services; strategy and operations design; change management; market intelligence and technology research and analysis. Founded in 2006, and based in Stamford, Conn., ISG employs more than 1,300 digital-ready professionals operating in more than 20 countries—a global team known for its innovative thinking, market influence, deep industry and technology expertise, and world-class research and analytical capabilities based on the industry's most comprehensive marketplace data. For more information, visit www.isg-one.com.
About gridscale
gridscale, the Cologne-based IaaS and PaaS provider, stands for easy-to-use and flexible cloud technologies. Via an intuitive interface, the IT infrastructure can be managed by people without in-depth IT know-how and a Kubernetes environment even facilitates the management of cloud-native workloads. Thousands of companies, agencies and managed service providers already rely on gridscale to implement and operate their digital projects – from high-traffic web shops to complex SaaS or enterprise IT solutions. White label options are available to resellers and with the gridscale software 'Hybrid Core' data center operators themselves can become cloud providers. gridscale with its about 100 employees is led by CEO Henrik Hasenkamp.
Press Contact
PIABO PR GmbH
Sybille Zimmermann
Tel.: +49 (0)30 257 6206-273
gridscale@piabo.net